After this "short test ride" I wrote a review about the equipment I was using, which may prove useful to some travellers and riders.
 Motorcycle
   In 73,000 km (45,361 miles) during my trip I had just a few, non-critical and relatively easily repairable mechanical faults. I was never stuck on the road except at the last day of my trip. The engine stopped working because the piston got a hole, which is normal after so many kilometers without proper maintenance. Have a look at the rebuilding for more technical information. I was just 60 km. (37 miles) away from the Greek border. It was the last day of my trip anyway, so I didn't care about the motorcycle anymore.
   The only disadvantage, which would make me not to choose the same motorcycle for my next trip, is that it doesn't have a kick-starter. That means that when the battery was becoming empty for some reason, I had to find some people to start the motorcycle by pushing. When the battery became empty in the desert because the regulator / rectifier had failed, it was a nightmare. I was very lucky that I found two men to help me. However, even for three men it was too difficult to push the motorcycle in the sand and reach the tarmac where we could start it.
I had twelve tyre punctures. The rest of the mechanical faults are summed up in the next table.
Mileage from the beginning of the trip
Mechanical fault
Reason
Solution

km.
1,909

Miles
1,186

Oil leakage from the rear suspension

Corrosion

Replacement by a new WP suspension and a tougher spring

15,588

9,686

The metallic mount of the horn broke

Tough off-roading

Welding

15,618

9,705

A spoke on the rear wheel broke

Tough off-roading

Replacement by a thinner one

15,682

9,744

The clutch discs got worn

It was my mistake.
I gave them a very hard time.

Replacement 2,050 km. later

28,770

17,877

The diaphragm of carburetor was cut

Normal wear

Repair 2,580 km. later

32,970

20,487

The regulator / rectifier failed

Normal wear

Replacement by an Enfield 350 Electra regulator / rectifier

38,970

24,215

The diaphragm of carburetor was cut again

Failure of the repairing

Replacement with a new one 18,500 km. later

56,962

35,395

The left ball-bearing of the rear wheel broke

Normal wear

Replacement 420 km. later

72,984

45,351

The piston got a hole

Lack of proper maintenance

My trip was just completed! 🙂
Engine oil
   There isn't specific oil for motorcycles in those countries, except India. They use the same type of oil for cars and motorcycles. There is one type of oil specific for motorcycles in India (20W40). It's produced for the small motorcycles (100 – 225 c.c.) they use there. I used that in India. In the other countries I used the same type of oil they use in cars, 20W50 API SF or better. When it was very cold, I was using 15W40 or even 10W40.
   Until the first 35,000 km. (21,748 miles) during the trip there wasn't oil consumption at all. Then, the engine progressively started to burn some amount of oil. At the end of my trip there was an oil leakage from the engine and there was a huge consumption in the engine. I ended to add the unbelievable amount of 2 liters per 1,000 km (621 miles)!
Fuel
   This motorbike is produced without a fuel filter but it seems that it can burn anything. The only problem I had, for which maybe the reason was the fuel, was that a few times the engine hadn't enough power for a while and even fewer times the engine turned off when it was idle. The average fuel consumption was 3.52 liters per 100 km (66.82 miles per US liquid gallon or 80.25 miles per imperial gallon).
Spare parts
   You can find some basic consumables in Turkey, like oil filters, tires etc. I couldn't find most of the spare parts and consumables I needed in the rest of the countries I traveled. I found spark plugs only in a specific company which imports them. I never found oil filters. I ordered from Greece as many consumables as I needed for my whole trip and I carried them on the bike.
Tires
   The size of the tires for my motorcycle is 90/90/21 (3.10-21") for the front one and 120/80/18 (4.60-18") for the rear one. 21" tires are completely unknown in those countries. You can find them relatively easy in Delhi (in Karol Bagh or K.R.P.) and only in one shop in Mumbai (Metro Tires).
   I used a narrower rear tire in Pakistan (4.10-18"). Even that was difficult to find. I found it in Quetta and you can find it in Rawalpindi too. In India you can find the right size almost in every city after some search around.
   Don't expect variety either in brands or in treads. The tires you can find in India are only made in India, China, Thailand, Malaysia or Taiwan. Every off-road tire I tried (Duro and Vee Rubber) lasted less than 10,000 km. (6,214 miles), even the front one!
   I started from Greece with the off-road tires that the motorcycle had when I bought it: Bridgestone TW-301 and TW-302. The rear one lasted around 20,000 km. (12,428 miles) and the front one around 30,000 km. (18,641 miles)! They still weren't in so bad shape as the tires I bought from India were after 10,000 km. (6,214 miles).
Chain and sprockets
   It was a fault to start my trip with a new CZ 520 Heavy Duty chain without o-rings. I needed to replace it in less than 10,000 km. (6,214 miles). I replaced it after 13,410 km. (8,332 miles) by a second-hand RK 525 which was the only one I found in Pakistan. I needed to replace that too after 6,000 km. (3,728 miles) approximately. I replaced it after 10,000 km. (6,214 miles) when it was in such a terrible shape that it was hanging. After a very long time I found a proper chain in Delhi. It was a D.I.D. 520 VM Gold with x-rings. That was the only chain that lasted 41,000 km. (25,477 miles).
   After the end of my trip, I used the same type of chain (D.I.D. 520 with o-rings), but it was the plain version (the black one), not the Gold one. Surprisingly, it was broken after about 20,000 km. (12,428 miles), while I was riding off-road uphill with normal speed! Happily, it didn't hit my foot. For some reason, despite I was maintaining it properly, the links were not moving freely and probably that was why the chain broke up.
   I changed the front sprocket after 46,505 km. (28,897 miles) from the beginning of my trip. I changed the rear one after 64,640 km. (40,166 miles). The only maintenance I was doing on the chain was to lubricate it every 500 km. (311 miles) approximately. However, I never cleaned it because I was not carrying paraffin. I was not lubricating it at all in the desert or when I was riding off-road and there was plenty of dust. So, the dust was not sticking on the chain.
Carburetor's diaphragm
   When the diaphragm of carburetor is cut, the engine cannot work in high rpms. The engine doesn't have any power on very steep off-road ascents, so it turns off. At those occasions, I had to disembark from the motorcycle and push it using the engine at the same time. When I had to push it on a very rocky and steep ascent, it was extremely hard even with someone else helping me! I was traveling 21,080 km. (13,098 miles) with broken diaphragm on the carburetor till the spare part arrived to me. Happily, I was only two or three times in such extreme off-road conditions that I needed to push the motorcycle. On the roads, the only difference was that instead of traveling at 80 km./h (50 miles/h), which was my cruising speed when the diaphragm was OK, I couldn't travel at more than 70 km./h (43 miles/h)
Battery
   I made the mistake not to replace the battery with a new one before I started my trip. It was an Aero YTX5L-BS, maintenance-free. I didn't move the motorcycle for 21 days when I was trekking on Himalayas in Nepal. The battery was already old. I had disconnected it but it didn't have any power after 21 days. It couldn't store electric energy during the next days.
   I replaced it in India by a liquid electrolyte battery because there aren't maintenance-free batteries there. I put the Exide 12MX4L-B. When the regulator / rectifier failed, the battery was absolutely empty for days and it was destroyed. I replaced it with an Addo 4LB, which lasted for six months before it had inner leakage of electric energy. So, I had to change it again with a Chinese battery that I was lucky to find.
Regulator / rectifier
   When the regulator / rectifier fails, the battery is not charging. If the motorcycle has a kick-starter there isn't any problem. Unfortunately, mine hasn't a kick-starter and I had to push it to start the engine. That's a nightmare especially in the desert. With a so heavy loaded motorcycle it's extremely difficult even on tarmac for only one person to push it and start the engine when it is cold.
Conclusion: I will never travel again by a motorcycle which doesn't have a kick-starter!
   The regulator / rectifier from Enfield 350 Electra with electric start fits perfectly to Honda XR 250S. It has even the same cables! I cut the cables of the old regulator / rectifier and connected the one from Enfield. It was second-hand and I traveled 12,500 km. (7,767 miles) on it without any problem. Then, I put the original Honda regulator / rectifier which arrived from Greece and I kept the one from Enfield as a backup.
Touratech Zega aluminium panniers
   I was using a 41-liter pannier and a 35-liter one. The aluminium on Zega panniers is 1.5 mm thick. When they are new, they are waterproof. However, after the first times the motorcycle falls, the aluminum is bended and the panniers are no longer waterproof. I straighten the aluminium but I never succeeded to make them waterproof again. Even on the light XR 250S the panniers were bended when the motorcycle was falling. The problem is bigger on heavier bikes, because when they fall, more than 230 kg. (507 pounds) are falling on a pannier. Of course, the load is shared with the handlebar or any other part of the bike which hits the ground.
   This problem occurs because the aluminium sheet is not welded around the bottom of the panniers. It's welded only with a few dots at some points. There is a thin foam between the dots, which is supposed to make the panniers waterproof. It goes without saying that not only me, but other travelers I have met too, know that the Touratech Zega panniers are not waterproof. The water doesn't enter the panniers with every small rain, but it does on a serious rain or when we cross rivers. So, put whatever must be dry in nylon bags.
   The aluminium on Zega panniers is not anodised. So, it makes all the luggage black. Of course, I didn't want to buy the extremely expensive soft bags that Touratech sells for this purpose. I painted the inner side of panniers to keep my stuff clean. The solution was good enough. However, after a few months and some tens of thousands of kilometers, the paint was scratched in many points. I think that the best is to stick a nylon or a plastic sheet at the inner side.
   In a very tough off-road ride in Armenia, after more than two years of traveling and 69,000 km. (42,875 miles), the aluminium sheet of the 35-liter pannier was broken! The load in the pannier was not too much at that time. The pannier hit on a very deep and narrow rut, while I was moving slowly. That's how the pannier broke, probably. The break was at the side of the aluminium sheet which goes to the rack. It was an approximately 5 cm (2 inches) break, next to the low and rear mount. You can click on the photo to see it on detail. It's between the red arrows.
Acerbis fuel tank
   The big plastic Acerbis tank has one petcock at right and one at left. The hoses from those two outputs are connected by a plastic T-connector with the carburetor's input. After 6 months approximately (around 25,000 km. (15,535 miles)) that plastic T-connector was full of cracks and it was broken due to the engine's heat. Use a metallic T-connector.
   Unfortunately, the handle on the petcocks is plastic too and it is very possible to be broken, when the motorcycle falls on the ground, since they protrude from the tank. The handle on my tank's right petcock was broken, when my bike fell on the ground in Nepal. Since then, I had the petcock always off and when I wanted to turn it on, I was using my pliers. It's better to replace these petcocks with the Acerbis universal petcocks (code: 0001203). They have a metallic handle and they fit on both sides of the tank. That means that they don't have the handle on the left or right side of the tank, but on the front side. This way, it's almost impossible to break them.
Toolbox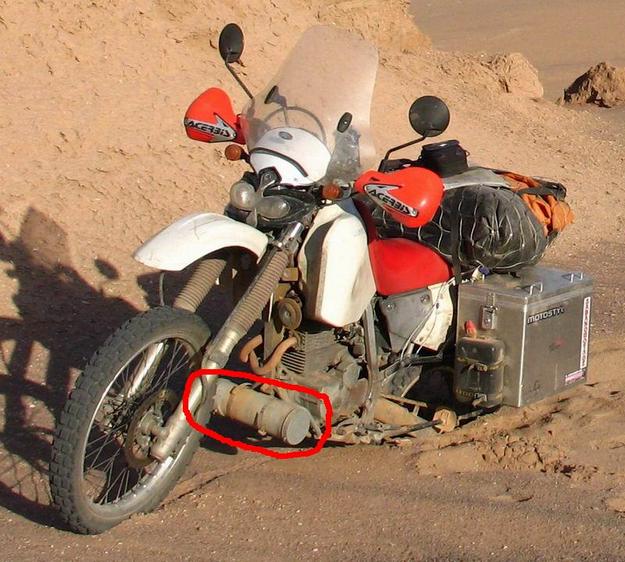 I had constructed a toolbox made by plastic water pipe. I had put it in front of the engine in a low position. I had mounted it with stainless steel hose clamps. I was traveling off-road with high speed in Pakistan. When I stopped I saw that the one hose clamp was broken because the strong and continuous shocks. I replaced it and I add a third hose clamp.
   I was riding with 60 – 70 km./h (37 – 43 miles/h) in India on a "road" where holding the handle bar was like gripping a compressor. I heard an ear-splitting noise. All three hose clamps had broken, the toolbox fell, the rear wheel rolled over it, the plastic hand pump I had inside broke and I was searching in the region for the rest of the tools.
   I carried my tools in the pannier since that incident. Keep in mind that I had inside the lock pliers, the tire levers and many other tools. The toolbox was very heavy. So, the hose clamps are not enough. If you plan to do tough off-roading, then make a bombproof toolbox and mount it with screws.
Altitude
   The front brake lever needed to move longer to activate the brake above 3,500 meters (11,483 feet) altitude. Although, I didn't have any problem with that.
   The reduction of power due to the thinner atmosphere was clear above 4,500 meters (14,764 feet) altitude. I did many kilometers in altitudes higher than that and I rode on the world's highest road at 5,602 meters (18,379 feet) altitude. The "road" there required very low speed anyway, so there wasn't any problem at all with the less power.
   I didn't need either to change the carburetor jet or to adjust something on carburetor. I increased only the idle speed and I was leaving the clutch lever more slowly and progressively when I was starting on a steep uphill road.
Riding
   There is a lot of information on the web about riding in those countries and especially in India. What I have to add is mostly about India but about Pakistan and Nepal too. I know how annoying it is but use the horn as they do. Most drivers don't see you when you are overtaking them. They don't use mirrors even if they have them on their vehicle. Inform other drivers that you are on their side by using your horn so they will not come suddenly towards you because there was a pothole in front of them. A lot of drivers don't even turn their head to check the traffic when they enter a main road. Some pedestrians do the same. So, if you see any traffic or pedestrians in front of you, you should definitely blow your horn to inform them that you are coming.
   A very common problem in India, Pakistan and Nepal is being surprised by oncoming traffic on the lane you are driving on. When you see trucks or other vehicles blocking your way, forget your egoism. Don't think about who is wrong. If you want to save yourself, just go at the side of the road and let them pass. We are guests in their playground and we should play with their own rules, if we want to survive.
   It goes without saying that I have seen countless and terrible accidents. Motorcycle travelers don't avoid them. I met some of them who had serious accidents despite the fact that they traveled just a few thousands kilometers in India and not 26,291 km. (16,337 miles), as I traveled. Personally, I never had in my whole life even a scratch because of motorcycles.
   Keep in mind that if you travel in those countries by your 650+ c.c. motorcycle, it's not the right place to enjoy it's speed. I was traveling with 40 – 50 km./h (25 – 31 miles/h) average speed on the country roads which are full with everything from cows to trucks. I was riding on highways just a few times and only there sometimes I could reach the extraordinary speed of 80 km./h (50 miles/h). Forget high speed in those countries. That's the most important advice to remember!
Health
   I was always eating in simple restaurants where the local people eat, even in India. However, the hygienic conditions there are terrible. I was eating street food and even the food that is offered in temples. I was always drinking tap water anywhere or water from springs and rivers. I didn't have any filter or chemical treatment to purify water. I don't recommend you to do the same because most foreigners in those countries, even when they are much more careful, get intestinal sicknesses with the unfortunate side effects of diarrhoea, vomit, and other serious symptoms. Diarrhoea is the most common sickness for travellers. Just a few travellers in those countries don't face diarrhoea.
  "Miraculously", I didn't have even one serious case of diarrhoea. I didn't get stuck in bed even for one day. It cannot be just a matter of luck that I didn't have a single problem during 2 years and 2.5 months in those conditions. I guess it matters that I am young, healthy, happy and I arrived in India after travelling in countries where the hygienic conditions were getting worse progressively. So, my organism had the time to adapt to the conditions. If someone is one day in London and next day flies to Delhi, for sure his organism would have a hard time to adapt to the completely different conditions.
   The worst problems I faced were some minor cases of diarrhoea, which at the most made me feel weak. I never even needed to use Imodium (loperamide hydrochloride). In Pakistan my skin around the groin area was irritated. The infection was probably due to contact with an infected toilet. When I was somewhere where there was a Western-type toilet, I was never sitting except if everything was looking absolutely clean. However, probably sometime it was looking clean but it wasn't, so I got infected. From that time I never sit in toilets in those countries even if they look absolutely clean. I raise the plastic cover and I step on the toilet with my feet. It's much safer. Neither this health problem was serious. I used a cream and some pills and the infection was gone.
   In Armenia, after eight months living continuously in so cold weather that I had never experienced before in my life, I got a light frostbite on my right hand. My fingers got swelled, they became red and I couldn't bend them as normally. I was not feeling any pain but I visited a doctor to assure that it wasn't anything serious, because my fingers were like that for days. The doctor didn't recommend any medicine. I was just putting my hands in hot water once in a while, in order to warm my fingers. In just one day the swelling was gone and gradually my fingers took their normal shape.
Camping
   I like very much to travel free and independent to remote places and camp in the nature. So, I spent a lot of nights in those countries on camping. I always try to camp far away from inhabited areas and out of fields or other private properties. I camped twice in a city or village in Iran, because even the locals there do that often. I never had a safety problem. When people were finding me in Muslim countries, they were usually inviting me in their home. Those times I had some of the most wonderful experiences of my life and I made some very good friends with whom I am still in contact.
   Unfortunately, the situation in India was different. If someone was finding me, a whole village was coming around me and a lot of times they were asking me to go away. They succeeded to send me away three times. One of those times they called the police! However, I was never in danger.
Tent
   I was using the Marmot Swallow tent. My tent is my refuge. It must protect me from strong winds, heavy rain, hail and snow. I had broken three cheap tents in Greece due to strong winds. The tent was bending too much and the plastic poles were breaking. In addition, I was wet in those tents every time there was heavy rain.
   The tent I chose this time is low, aerodynamic, with aluminum poles and fabric of good quality. I faced extremely strong winds innumerable times for many hours continuously and the tent didn't have any problem. A useful feature of the tent is that the fly is fastened on the main tent. Otherwise, the wind removes the stakes from the ground and it takes away the fly.
   I also faced heavy rain for many hours continuously. I faced small floods during the monsoon in Pakistan and India. The water was about five centimeters from the ground. The water was not entering in the tent but everything that was touching the floor was a little bit wet. I was sleeping on a closed cell foam sleeping mat, so I wasn't wet at all.
   This tent is full of huge messes and all of them can be covered by fabric. So, when it was cold, I could leave only a couple of small messes open. When the weather was too hot, I was uncovering the messes, so the wind was entering and I was cool enough. At the same time, the mosquitoes couldn't enter and that's very important, especially in areas where there is malaria and other diseases that are transferred by mosquitoes. Something else that I think it's useful is the light color of the tent. It allows the light to enter in the tent and it's not a melancholic color.
Important! After having used my tent for about 200 nights, it was not waterproof anymore! Water was entering in the tent not from the seams, but straight through the fly. I researched why this happened and I realized that there isn't any kind of fabric that can be waterproof for a long time. UV radiation polymerizes the plastic fabric and it ruins it. After that, I decided I don't need an expensive tent, since I will have to replace it soon anyway. So, next time I will use a middle quality tent, which can withstand storms but is not too expensive. You can read more about this on the thread I created at: http://www.horizonsunlimited.com/hubb/camping-equipment-and-all-clothing/tent-waterproofing-doesnt-last-67260
Sleeping bags
   With the combination of a good quality, warm sleeping bag and a fleece sleeping bag liner I could sleep in all temperatures that I faced, from negative ones until about 40oC (104oF) during the night. The warm sleeping bag that I was using was the synthetic Marmot Wizard 3D, which is sold for temperatures between -10oC (14oF) and -5oC (23oF). However, these numbers are absolutely theoretical and the reality is different.
   When it was cold, I was using both the warm sleeping bag and the fleece liner. If it was extremely cold, I was wearing clothes too and I was closing the hood of the sleeping bag, leaving uncovered only my eyes, my nose and my mouth. When the weather was neither cold nor hot, I was entering in my fleece liner and I was putting the warm sleeping bag over me as a blanket. When the weather was hot, I was using only my fleece liner and when it was really hot, I wasn't using any sleeping bag.
Cooking stove
   I chose a gasoline (benzine) cooking stove (Coleman Feather 442), because in many of those countries I traveled there aren't gas bottles. I was absolutely self-sufficient with the gasoline stove. When it's fuel was finished, wherever I was, I was removing the fuel hose from my motorcycle's tank and I was filling the stove. I used it many times in high altitude until 4,400 meters (14,436 feet). It never had a problem. I used the stove innumerable times, because I was camping very often. It was never necessary to clean the generator or any other part. The gasoline I was using usually wasn't unleaded, despite the manufacturer recommends the use of unleaded gasoline only. I was using any kind of gasoline. The stove was always working everywhere without any maintenance. When there was wind, I was putting the tops of my motorcycle's panniers around the stove and the stove was working much more effectively.
After returning to Greece and after 6 years I was using the stove (regular use was only during 27 months in Asia), I had to clean the generator and replace the rubber seal on the pump which makes pressure in the fuel tank. Ten years had passed from the manufacture of my stove until that time. While I was trying to remove the generator, I broke it, so I had to replace that too. The good thing about Coleman stoves is that there are available spare parts, so we can keep the stove working for ever!
Straps
   The straps I was using to keep the bags behind the seat were the ROK straps All Purpose Adjustable. One of them was cut after 11 months of use. It was cut at the fixed part, not at the elastic one. It seems that it was sun-burnt. I tied the two parts together and I continued to use it. After a long time the same happened to the other straps I had.
Zippers
   Every zipper that is used a lot fails and it doesn't zip up. My jacket's zipper failed three times during my trip. At the first two times I fixed it with a pair of pliers. I pressed the metallic moving part of the zipper. That gets wider as long as you use it and it cannot bring the two parts of the zipper together anymore. Last time the metallic moving part was so worn that I had to replace it. I replaced only that, not the whole zipper.
   The zippers of my tent's doors and my camera's case failed too. Carry safety pins as a backup. It would be nice if the jacket can get closed with buttons and stickers, except the zipper, like the BMW Rallye-2 which I use. This way, if the zipper fails, you can still close your jacket.
Music
   I was never listening to music while I was riding. However, I enjoy it a lot while I camp. The sand in the desert enters everywhere and it scratches the CDs. Most of my CDs had been destroyed in a specific part of them and they were not working properly. It's better to use an mp3-player with electronic memory to avoid CDs.
If you want to ask something else, don't hesitate to contact me.