Photos: Nikolaos Oikonomou
   To tell you the truth, we would make this trip even in our underwear, so to speak…(if this would be the case, Christina would have some serious disadvantages 😉 ) An immaculate outfit has never been our priority, having our clothing in perfect match. However, a motorbike traveler comes face to face with every little change of the weather, including steaming in 50o C, downpours, chilly cold weather, while, in the same time, he remains fully exposed in case of a casual fall or a collision with other vehicles – let alone the animals… (just like on the episode "mad nomad and the crazy cow of India!")
   Taking into consideration the limited space in our luggage, it's not hard to imagine that our jackets and trousers are our closest companions, as we don't carry our entire wardrobe with us…
Well, REV'IT! really thought of all this and did not hesitate to declare:
– Hey guys, our motto is "protection and comfort"!
OK, not in those exact words… That sounds more like advertising well-known feminine products! Let's try again…
– Hey guys, leave the clothes and the rest of the accessories on us!
(yeah, that's more like it!)
   That's what the story was all about! Being unbelievably generous, REV'IT! actually deconstructed the myth that indicates such a big company not to give a crap about a mad couple from Greece, who plans to wander around Africa on motorbikes! Without a second thought, they've sent us a huge package straight from the Netherlands, full of jackets, trousers, gloves, thermal suits, rain suits, even socks! (Rumor has it that REV'IT!'s secret agent once noted down my statement "I want to be Miss Universe!" – guys, you misunderstood me… what I meant was that I want to see the entire world, not winning a pageant title! You really turned us into super models!)
mad nomad:
   The entire motorcycling gear is of high quality, and that was obvious from day one. No wonder why REV'IT! was the first company we turned to for a sponsorship. I think they manufacture some of the best motorcycling clothes, especially when it comes to adventure traveling use! It is crystal clear that they pay attention to every small detail regarding the design of the products, that's why REV'IT! gear is so practical, with smart features making rider's everyday life so much easier.
   Our favorite garment is definitely the jacket! We chose the summer jackets Levante and Levante Ladies. Mesh fabric covers most of it: the chest, the back and even the arms. Even though it seems very durable and abrasion resistant, you can really feel the airflow keeping you cool! In my old jacket I was literally steaming in off-road riding, as well as every time I pulled over for a while. On the contrary, the Levante jackets are so comfortable that we never need to take them off when moving on low speed. We wear them every day, all day long! Even when riding off-road, we feel a lot cooler than we used to. Plus, we are much more protected with the advanced back protectors that REV'IT! supplied us with! The massive Seesoft Back Protector is CE Level 2 certified, which is the most strict safety pattern.
   Probably you would ask: "What happens when the temperature drops?" REV'IT! has shorted everything out, with the jacket having an inner coating quite warm, being waterproof itself. Whenever needed, all we have to do is simply adjust it inside the jacket, using some handy zippers. Moreover, the inner coating is quite useful as it can be worn as a casual jacket, in a stroll around a city in chilly weather. These jackets really meet all our needs as far as it concerns the weather conditions we are about to come across!
   Our trousers are another garment we never take off (well, except for the night…). Imagine that I don't carry a second pair of pants. On and off the motorcycle, I wear the ultimate Defender GTX! It is specially designed for adventure traveling, so I could ask for no more… It has huge ventilation panels, not mere zip-up openings. A quite distinctive feature is the leather in the inner area of the knees, which allows me, when riding off-road, to stand up and keep my knees tight on the tank, providing the precious stability we all seek in such moments.
   Christina has gone for the ladies trousers Ventura Ladies, which she says it is very comfortable when wearing it all day. It seems that REVI'IT! has designed all its ladies gear in order to fit very well a woman's body.
   I had the chance to test my rain suit from the first days of my trip, and I was struck by its waterproof protection, as well as its capability to breathe. Every rain suit I had (even the ones shouting for being breathable) made me soaking wet from my own sweat, even when being dry on the outside. That is because a PVC rain suit does not allow the human body to breathe properly, without drying out the sweat. REV'IT!'s rain suits, however, are not just plain PVC.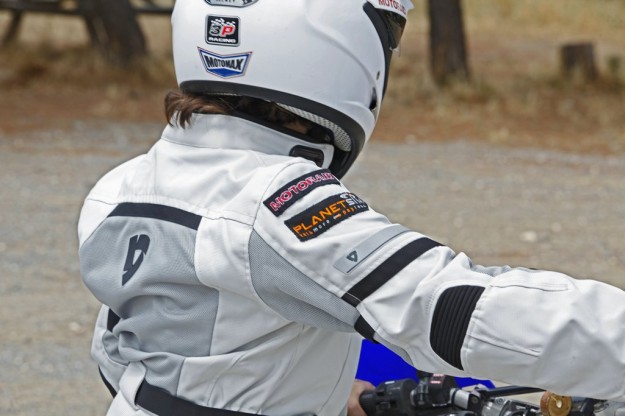 So, for the time being, we feel more than comfortable and in the same time protected, wearing all this gear REV'IT! has provided us with! We are looking forward to ride with it on the demanding African terrain and we really believe that, even after some years, our feedback on the durability of REV'IT! products will be more than positive!
   REV'IT!, thank you so much! With you supporting us, we won't break a sweat, either through the sandstorms of the Sahara desert or through the downpours in the tropical zone of the equator.